7 MIN READ
Leadership Tips: Guiding Focused & Engaged Data Teams
How do you cultivate a focused team, motivated to build something that people will derive value from? A data leader is able to gauge team engagement, knows how to evaluate tech, and recognizes the influence of consumer analytics on innovation.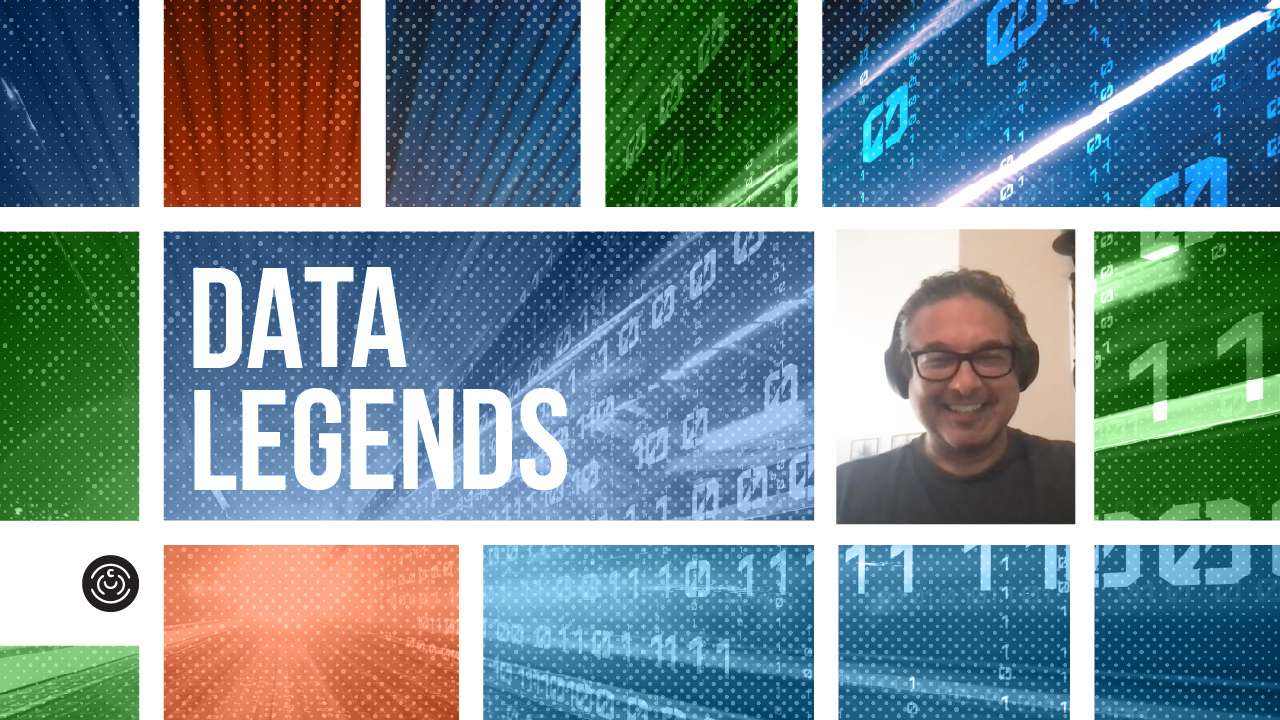 Recently on Data Legends, we spoke with Raheem Daya, Sr. Software Development Manager, Envision Engineering at Amazon Web Services, about how to set a clear vision and keep your data team engaged, how to decide what tech to invest in and build, how consumer tech is democratizing data, and more.
"You can build all sorts of amazing solutions to capture data, but if you can't show business value, then it's all pointless." — Raheem Daya
Setting a clear vision
Raheem's engineering team serves the healthcare vertical, where the holy grail is capturing the entire patient journey to make good use of data.
In healthcare specifically, outsiders might think that the amount of data available would make a good outcome easy, but that isn't so. Aside from the challenges of patient privacy, security, and regulatory issues, there's the underlying question of how to deliver results based on the data.
"If you can't show business value, if you can't improve patient health, then it's pointless," Raheem said.
What he's driving at is the importance of setting a clear vision not for what the work is but for why the work matters. Data must be tied to actual outcomes to become meaningful.
Motivating engineers
No matter the vertical, engineers can get stuck in the complexity of the build and lose the value that people might gain from it.
Raheem makes sure his team keeps the answers to these questions top of mind:
What's our mission for the build?
How does it fit into the larger ecosystem?
He uses these answers as a guide to set a vision for the team. The vision is a story about what we're building and why it's important.
"As a manager, our number one job is to take care of the folks that work with us," Raheem added. "Without them, we're not going to build anything."
"One of the things that we, as leaders, have to do is to be able to set a vision, be able to tell a story about what we're building and why it's important." — Raheem Daya
Empowering engineers with decision
Engineers, unsurprisingly, aren't one-size-fits all. They're amazing analysts that deserve to understand the context for and importance of the data tests they're running.
This knowledge turns them into better engineers. "Empowering engineers through knowledge, helping them understand how to make good decisions, and then letting them run with those decisions is hugely important," Raheem explained.
You don't want an environment in which every single decision bottlenecks while waiting for manager approval. Teach your engineers to decide, both individually and as a group.
(You might be amazed to see the cross-team collaboration that results.)
"It all starts with understanding how you fit in and what downstream impacts your decision may have," Raheem said. Cycling back to setting the vision, employees who understand the vision for the build will make better choices and deliver better results.
Choosing technology
It can feel as though deciding about technology is one of the most challenging choices facing an engineering team.
Raheem's guiding question is "Does this technology really solve my business problem?" If not, don't use it!
A followup question when making a longer-term decision about choosing tech is, "What flexibility does this tool give me?" Without a roadmap or growth trajectory, you could be stuck with tech that does only one thing.
A tool that fits within the larger context of the organization and the team's vision is a better choice. "Because you put a lot of time into learning something, you want to be able to continue to use it," he pointed out.
There's also value to be had in evaluating a tool that might not fit your use case today but might be the perfect solution for one down the road.
"You put a lot of time into learning a new tool, so you want to be able to continue to use it, so having a roadmap becomes very important." — Raheem Daya
The democratization of data and the primacy of the end user
One of the most exciting ways that analytics are changing is the notion of the democratization of data. Allowing users to own and understand their data is the next iteration of user experience in data.
From a build perspective, this means asking what behaviors you intend to drive or what changes you plan to help your users make. (A B2C example would be proactive Apple Watch alerts.)
As consumers become more sophisticated, they become hungrier for data visualization and information linked with insights.
That drive for insight is the same in B2B. Think how the dashboard has evolved in even the last two or three years to emphasize predictive and prescriptive analytics. Businesses want access to meaningful data.
Yet a corollary of the sophisticated consumer, whether B2B or B2C, is a shortened attention span. End users want a simple, clear message at near-instantaneous speed.
"You have 15 seconds to pull someone in, and then they're gone," Raheem said.
It'll take a fixed focus on the end user and their demands in a remote-first world. That effort will show in design and build to make sure that people are engaged and getting what data they need the moment that they need it.
More information about Raheem and today's topics:
To make sure you never miss an episode of Data Legends: Stories from the IT Trenches, follow on Google, Apple Podcasts, Spotify, our website, or anywhere you get podcasts.
Additional Resources
Read the Blog: Unlocking Data Literacy Part 1: How to Set Up a Data Analytics Practice That Works for Your People
Watch the Webinar: 2022 Trends in Enterprise Analytics
Check out the Whitepaper: Beyond Observability: The Hidden Value of Log Analytics
About the Author, Courtney Pallotta
Courtney is passionate about building dynamic teams and developing marketing strategies that help customers understand and benefit from exciting technology. Outside of work, she and her husband enjoy cheering on their three children from many sidelines and discovering all things outdoors in the Rocky Mountains.
More posts by Courtney Pallotta