7 MIN READ
Solve a Problem, Change the World w/ Amr Awadallah
A universal human problem that we don't often address is that historically, knowledge has been relatively siloed by language. But with advancements in AI, there are new opportunities to capture broader and deeper insights across the written and spoken word by breaking down global language and distance barriers.
This was the topic of discussion on our most recent Data Legends podcast episode, featuring Amr Awadallah, founder and CEO at Vectara and former technology exec at Cloudera, Google, and Yahoo.
If you ever get the opportunity to talk with Amr, you should. I had the pleasure of working with him for several years at Cloudera, and can honestly say that he's not only super smart and thoughtful, but he's one of the smartest, humblest and genuinely nicest executives I've worked with in my career. So when we decided to launch a podcast featuring legendary IT and Engineering executives, Amr immediately rose to the top of my mind as an ideal guest.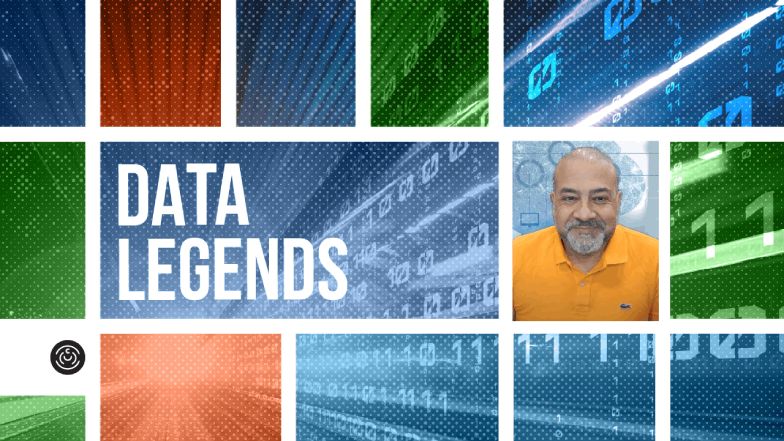 During the episode, Amr talked about why technology is worthless without a problem to solve, and what tech startups need to prioritize when determining where they want to specialize.
"Solving customer problems is what inspires us every day. That, by definition, means changing the world." — Amr Awadallah
Tech is worthless without a problem to solve
Amr is a self-proclaimed pragmatist when it comes to technology. "It's not about the technology. It's not about the trends. It's about the problem. What problem are we solving?," he asked.
Great tech should solve a common problem that impacts many people.
At Yahoo, Amr was responsible for business intelligence and data analytics for some of the (then) tech giant's key products. Nothing was solving the problem, he said, until the concept of big data emerged.
When he saw how technological trends could solve problems better, faster, and more deeply, he left Yahoo to co-found Cloudera.
Amr explained, "That's usually my guiding principle: Is there a problem in the first place?"
3 questions every tech founder should ask before starting a company
Is there a problem?
Is it a common problem that many people face?
Is tech solving the problem in a unique way?
Granted, timing is also important with emerging tech. "It's not enough to detect the problem," Amr said. "It's important to detect it at the right time."
Even if all the factors are in your favor — identifying a technological solution to a commonly held problem at the right time — you still have to try, fail, learn from your failure, and try again.
"As a company, we leverage AI to solve some problems that we have been struggling to solve as a human civilization — seeking knowledge." — Amr Awadallah
What should tech startups focus on?
Let's start by talking about Amr's latest venture: Vectara.
In a broad sense, Vectara specializes in leveraging AI to solve problems that have faced human civilization for a long time, like seeking knowledge.
More specifically, Vectara takes rich web content across languages and converts it into meaning to find the best answer to our questions, regardless of the language of the question or the answer.
A decade ago, the best AI could only understand language at the knowledge level of a seven-year-old. But today, with neural network models for AI, we can access those 6,000 human languages in a truly meaningful way.
As an experienced founder, Amr advises other tech startups to focus on two things — beyond problem-solving, of course.
1. Product market fit
You have great technology that can solve your customers' problems, but the tech and the solution still exist separately.
Focus on how to create a product that truly connects these two things in a smooth, repeatable way.
Fine tune your product market fit before you hire a team of sellers, marketers, and even engineers.
2. Culture
That said, the culture of the team you're building is nearly as important as the product itself.
"When you're starting at ground zero with a startup, the first 50 people you're going to hire set the tone of the culture for the company for many years to come," Amr pointed out.
Be deliberate and precise when you hire. Hire to reinforce and direct the long-term culture that you want to see.
Amr hires for passion. Throughout the ups and downs of a startup, passion for the noble mission that everyone supports is what will keep everyone committed and collaborating.
At its heart, a mission that people can be passionate about changes the world by helping others.
Amr also hires team players. People who pass blame just won't cut it in a cooperative environment. Firing to protect culture matters even more when a single person represents 10% of a ten-person company.
"Whenever you feel you're comfortable, stop. Learn a new way that stresses you along a new dimension if you want to grow." — Amr Awadallah
Growth through specializing in learning
People tend to become comfortable with the way we do things. In every single role, in every single discipline, what we need to embrace is the challenge of the new way.
To Amr, whenever we feel comfortable, we need to stop and learn something new — a new way of thinking or doing things.
"Never be shy about learning new things," he said. Whatever tool or idea you think will make your job harder right now could well supplant your job in the future.
Humans shouldn't specialize in skills but in learning itself.
He referenced legacy architects at Cloudera that clung tightly to the older generation techniques of getting things done. They didn't adapt to the new technology of big data and data lakes, and now they're flat out of a job.
"Be very good at learning over and over again to find the thing that excites you within what's available to you," Amr said.
Especially in tech startups, it's the hunger for the new that will serve us best.
To make sure you never miss an episode of Data Legends: Stories from the IT Trenches, subscribe on Apple Podcasts, Spotify, our website, or anywhere you get podcasts.
Additional Resources
Read the Blog: Introducing Data Legends: Stories from the IT Trenches
Listen to the Podcast: Musings on Data Lakes, Computer Science, AI & More
Check out the Guide: 2022 Gartner® Market Guide for Analytics Query Accelerators
About the Author, Karina Babcock
FOLLOW ME ON:
Karina is passionate about partnering with customers that have adopted groundbreaking technologies to tell their stories, building relationships and community, and creating high-quality content. Outside of work, she loves doting on her two kids, staying active with Crossfit, and organizing just about anything.
More posts by Karina Babcock