4 MIN READ
Cyber Defense Magazine Names ChaosSearch "Cutting Edge" in Cybersecurity Analytics
Exciting news — ChaosSearch won the 2021 InfoSec "Cutting Edge in Cybersecurity Analytics" award from Cyber Defense Magazine! We're honored to be recognized for our innovation in delivering security insights at scale. The InfoSec panel of judges is made up of certified security pros who understand what SecOps teams care about and how log analytics should be applied to keep data secure.
Read the Solutions Brief: Scalable Log Analytics for Security Operations and Threat Hunting
What Are the Cybersecurity Issues ChaosSearch Solves?
Enterprise security operations teams need a robust log analytics solution for monitoring and alerting, forensic investigations, distributed denial-of-service (DDoS), and threat hunting. But traditional solutions can't handle the tens of terabytes of data per day that pour into their systems. Their legacy systems weren't designed for such fast-growing, massive-scale data, or for the cloud. They become prohibitively costly and unstable at scale, forcing SecOps teams to limit the amount of data they retain and, as a result, their ability to analyze and protect against cyber attacks.
With the ChaosSearch Cloud Data Platform, SecOps teams can switch from legacy systems that are extremely limited in performance and scale, and adopt a security data lake approach that allows them to easily manage huge volumes of security event data from multiple sources, at disruptive costs.
READ: Two Major Industry Awards Confirm ChaosSearch's Growing Role in Enterprise Cybersecurity
How Do We Do This?
ChaosSearch completely re-architected large-scale log analytics for cybersecurity.
Our platform simplifies, automates and accelerates the process of gaining actionable insights from massive amounts of security log and event data.
It's the only solution that connects to and indexes all data within a customer's own cloud storage environment, such as Amazon S3 or GCP, and makes it fully searchable and available for analysis —all with unlimited scale and data retention as well as cost savings up to 80% over competitors.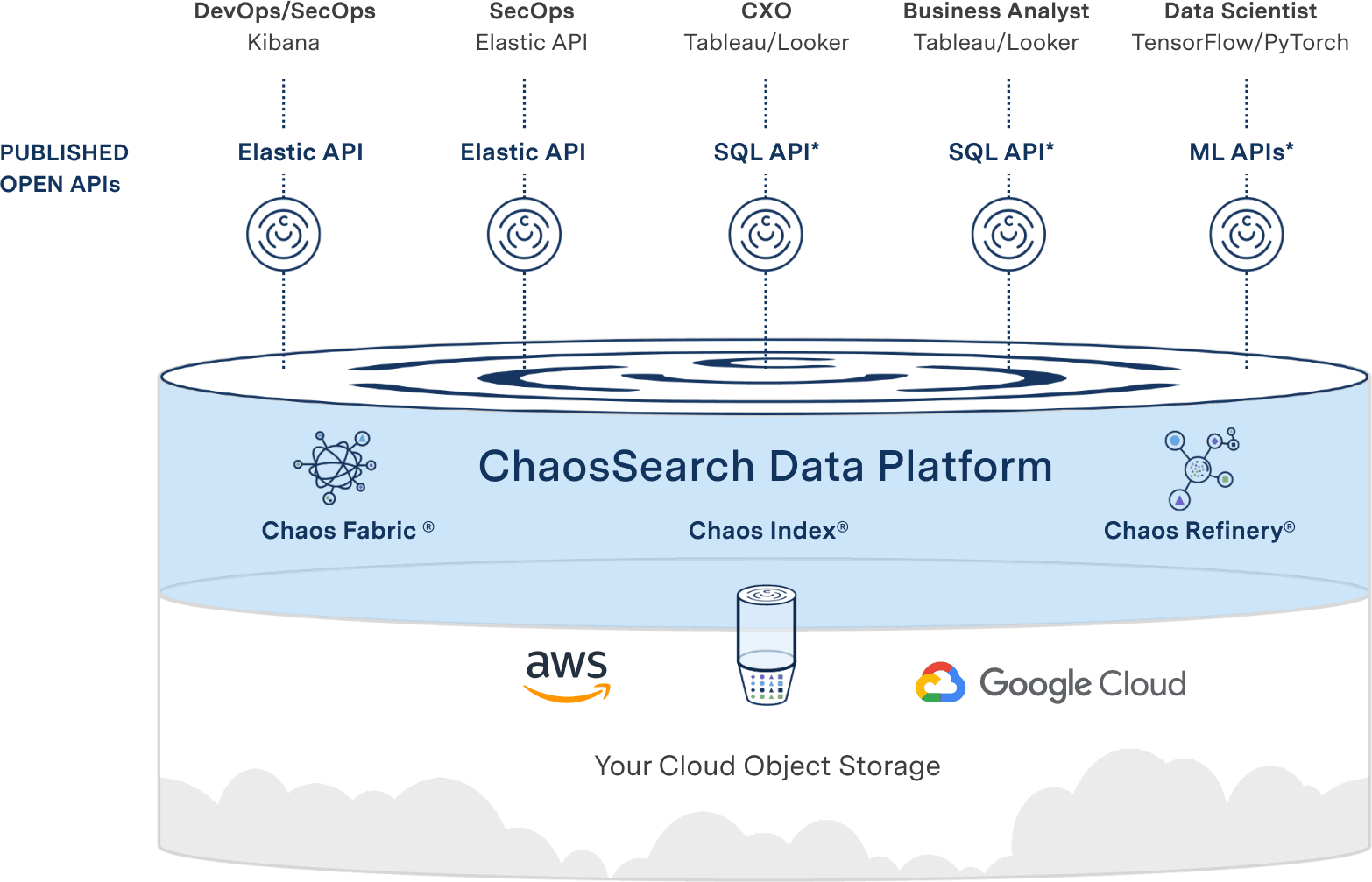 Innovative Technology for SecOps Use Cases
With our scale and resiliency, you can quickly identify and neutralize threats as they are in progress, including DDoS attacks. ChaosSearch integrates with popular content delivery networks (CDN) and security services like Fastly, Cloudflare, AWS CloudFront, Carbon Black, Auth0, and Okta, helping you understand application usage, traffic patterns, location of origin, and when and where your website or application has been compromised.
We also have built-in alerting so you can set thresholds to tag and automate response to threats in near real-time.
Our customers also find ChaosSearch incredibly valuable for advanced persistent threat (APT) detection. With cost-effective, unlimited retention for all sources of security telemetry, you can easily analyze the lifecycle of all threats and their origins. You can monitor all IPs, ports, and endpoints that access your organization's systems, as well as inbound traffic sources and patterns. Unlimited data retention is essential for fighting long-tail intrusions. Luckily, ChaosSearch makes it easy.
READ: Threat Hunting Frameworks and Methodologies: An Introductory Guide
Want to try ChaosSearch for yourself? It's super easy and fast. With just a few clicks and in less than 5 minutes, you'll be up and running.
Check out what our customers -- and InfoSec judges -- are so excited about.
About the Author, Thomas Hazel
FOLLOW ME ON:
Thomas Hazel is Founder, CTO, and Chief Scientist of ChaosSearch. He is a serial entrepreneur at the forefront of communication, virtualization, and database technology and the inventor of ChaosSearch's patented IP. Thomas has also patented several other technologies in the areas of distributed algorithms, virtualization and database science. He holds a Bachelor of Science in Computer Science from University of New Hampshire, Hall of Fame Alumni Inductee, and founded both student & professional chapters of the Association for Computing Machinery (ACM).
More posts by Thomas Hazel