5 MIN READ
Why Midsized SecOps Teams Should Consider Security Log Analytics Instead of Security and Information Event Management
If Ben Franklin lived today, he would add cyber threats to his shortlist of life's certainties.
For decades, bad guys have inflicted malware, theft, espionage, and other forms of digital pain on citizens of the modern world. They seek money, celebrity, and political secrets, and often get them. In 2020, hackers halted trading on the New Zealand stock exchange with a distributed denial of service (DDoS) attack. Bitcoin scammers spoofed the Twitter accounts of former President Barack Obama, Amazon CEO Jeff Bezos, and Tesla and SpaceX CEO Elon Musk. And for nine months—or maybe longer—Russian spies studied the confidential emails and files of dozens of U.S. agencies, companies, and nuclear labs.
The damage from such attacks rises each year. The average consumer security breach now costs the modern enterprise $8.19 million, according to a report by software firm ForgeRock in 2020. The costs include systems cleanup, legal liability, lost customers, and more.
To address these risks, many organizations have strengthened their firewalls, intrusion detection systems, authentication processes, and antivirus software. They also analyze a growing volume of security logs to monitor and alert, investigate incidents, hunt threats, and generate reports. Organizations that effectively implement security log analytics can reduce the frequency and size of operational disruptions and financial losses. They enable compliance, cut legal liabilities, and reduce friction with regulatory authorities. Perhaps most important, secure enterprises maintain the trust of their customers, which reduces churn and increases revenue.
Read the Solutions Brief: Scalable Log Analytics for Security Operations and Threat Hunting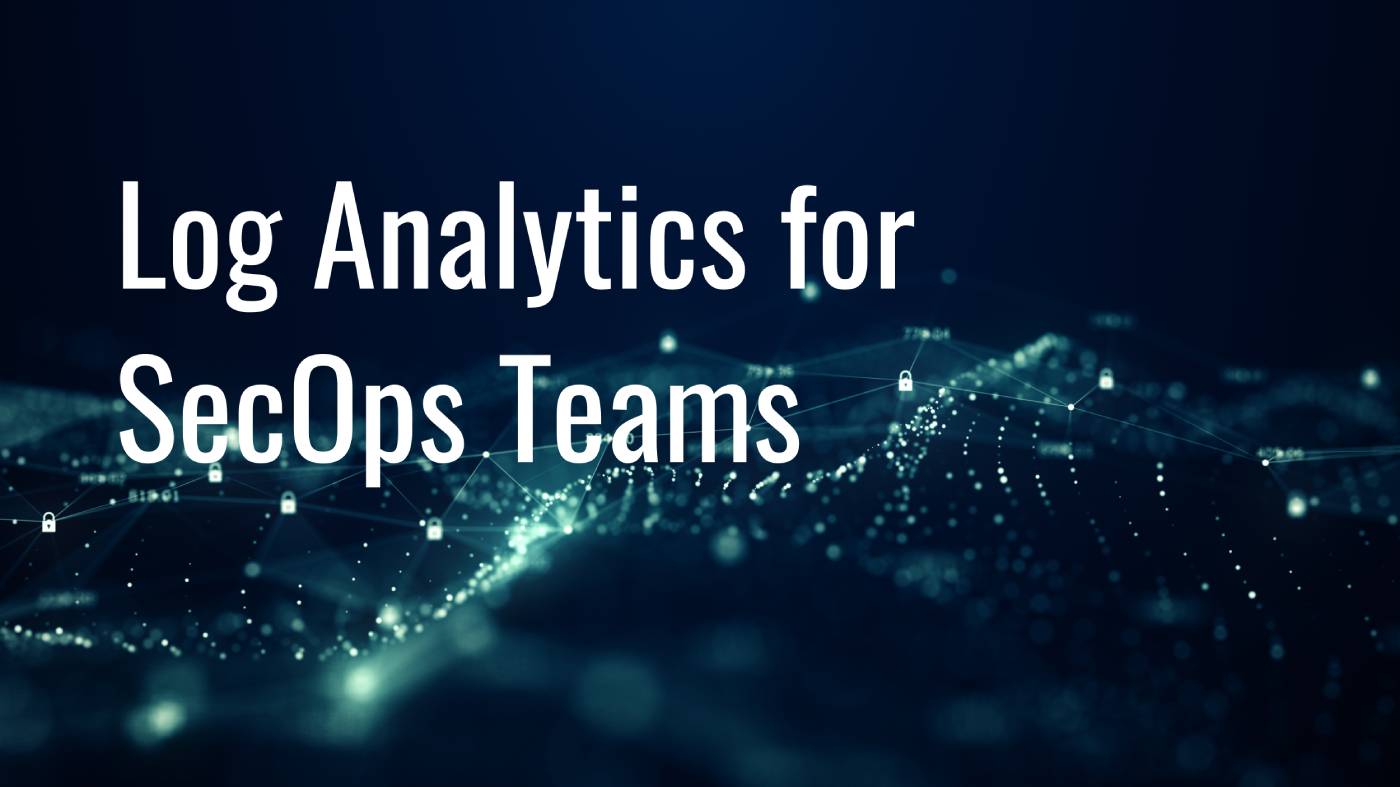 Security Log Analytics Defined
Security log analytics (SLA) tools, as the name suggests, analyze the logs that capture security-related events such as user logins, password changes, and firewall alerts. Logs also capture the messages that security tools, servers, and other IT components send to one another. Security operations (SecOps) teams use SLA tools to ingest, transform, index, search, and query log data. This empowers SecOps analysts and engineers to predict, prevent, and mitigate threats, as well as comply with regulatory requirements.
Security log analytics empowers SecOps analysts and engineers to predict, prevent, and mitigate threats, as well as comply with regulatory requirements.
SLA versus SIEM Platforms
SLA tools serve smaller or cost-conscious enterprises that cannot justify investing in broader-based security information and event management (SIEM) platforms. SIEM platforms are designed to comprehensively assess and optimize an organization's security posture. They examine logs and other data points—such as network traffic flows and internet of things (IoT) sensor signals—in the context of known vulnerabilities. SIEM platforms then generate compliance-specific reports and even orchestrate responses to security incidents.
Although they support fewer functions and data types, an SLA tool should be the foundation of a security stack. They are more scalable and more flexible while offering comparable log analytics functionality to SIEM platforms.
Scale. SLA tools process and store high volumes of logs at a low cost. This makes it cheaper to address threats such as DDoS attacks and intrusions that leave many footprints to study over time.
Ease. SLA tools are easy to learn and use. Their intuitive interfaces don't require security expertise to understand threats and incidents.
Flexibility. Some SLA tools manage both security and IT logs. This supports ITOps and DevOps use cases in addition to security, which saves effort and reduces software license costs.
Given these advantages, SLA is a compelling option for organizations with tight budgets, limited staff, and basic security requirements that cannot justify investing in a SIEM platform. The following table compares SLA and SIEM.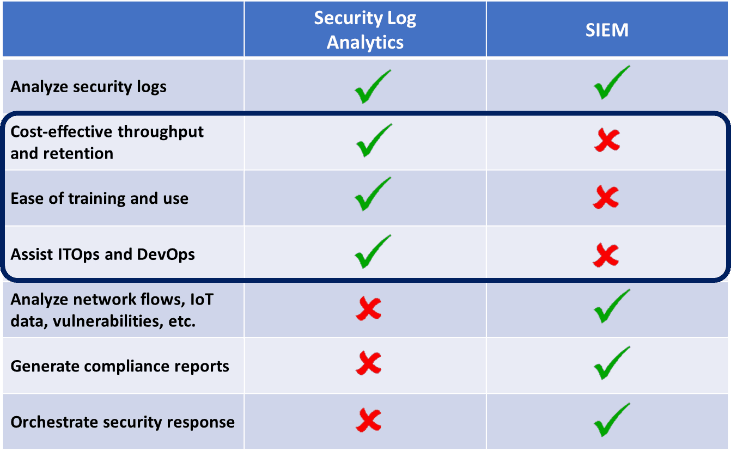 Multiplying threats, digital transformation, and data democratization are forcing organizations to get more serious about SecOps and observability.
Companies are beginning to recognize the ability of log analytics to address their security needs, rather than just ITOps and DevOps, and as an alternative to premium SIEM platforms.
Although death, taxes, and cyber threats will persist, security log analytics offers organizations the opportunity to achieve an acceptable level of risk at a reasonable cost.

Related Content
How to Mitigate DDoS Attacks with Log Analytics
Log Management and SIEM Overview: Using Both for Enterprise CyberSecurity
Threat Hunting Frameworks and Methodologies: An Introductory Guide
About the Author, Guest Blogger: Kevin Petrie, Vice President Research, Eckerson Group